PRESS RELEASE
Helsinki, Finland, the 12th of December 2017
Citycon Oyj, a leading owner, manager and developer of shopping centres in the Nordic and Baltic regions, leverages on Visit® solution to optimise Citycon's shopping centre operations and enhance its customers' shopping experience.
Citycon Oyj and Visit Intelligence Oy have reached an exclusive multi-year agreement to deploy Visit® Visitor Behaviour Analytics to Citycon's shopping centres in the Nordics and Baltics. Visit® solution includes seamlessly integrated Visitor Counting and, in addition, public Wi-Fi and Advanced Location-Based Analytics. The rollout includes thousands of sensors providing a holistic view about the people flows in the shopping centres. The rollout starts immediately and is estimated to be completed during the first half of the year 2018. The unified public Wi-Fi across the key Citycon shopping centres enhances the customer experience and helps Citycon adapt to the global trend, where shopping centres are reinventing themselves as social hubs where people meet, eat and enjoy their time together.
"After a careful review of global top players, we decided to choose Visit Intelligence as our partner. Visit® was the most relevant solution able to provide a comprehensive tool kit fulfilling our operational requirements," says Kirsi Simola-Laaksonen, Vice President, Audit and Business Process Improvement of Citycon Oyj.
"After a successful pilot in one of our flagship centres in Finland 'Iso Omena', we have witnessed that the usability of information Visit provides is essential for developing and managing the shopping centre. Thanks to Visit's graphical dashboard, we are now able to analyse the Visitor amounts, Shopping hours and Dwell times among other visitor related metrics," points out Siim Rosenthal, the Shopping Centre Manager of Iso Omena.
"I am more than delighted about the agreement with Citycon as it further solidifies Visit® as the leading solution for Visitor Behaviour Analytics", says Lauri Ruohonen, the CEO of Visit Intelligence Oy. "We feel privileged to bring our decades of experience available for Citycon, so that its shopping centre operations can be led by utilising data and insights, the way it should be."
The Executive Vice President of Visit Intelligence, Artto Ilmanen, also adds that the market is now ripe for adapting new intelligent analytics tools: Visit's long-term commitment to R&D, recent technology acquisitions and strong focus on privacy form a solid foundation for large-scale global adoption. I believe we are on the verge of a new de-facto standard in determining the true value of each location in a shopping centre to optimise tenants' rent levels and thus the whole asset value." 
About Citycon Oyj
Citycon Oyj is a leading owner, manager and developer of urban, grocery-anchored shopping centres in the Nordic and Baltic region, managing assets that total almost EUR 5 billion and with market capitalisation of close to EUR 2 billion. Citycon Oyj is No. 1 shopping centre owner in Finland and among the market leaders in Norway, Sweden and Estonia. Citycon Oyj has also established a foothold in Denmark.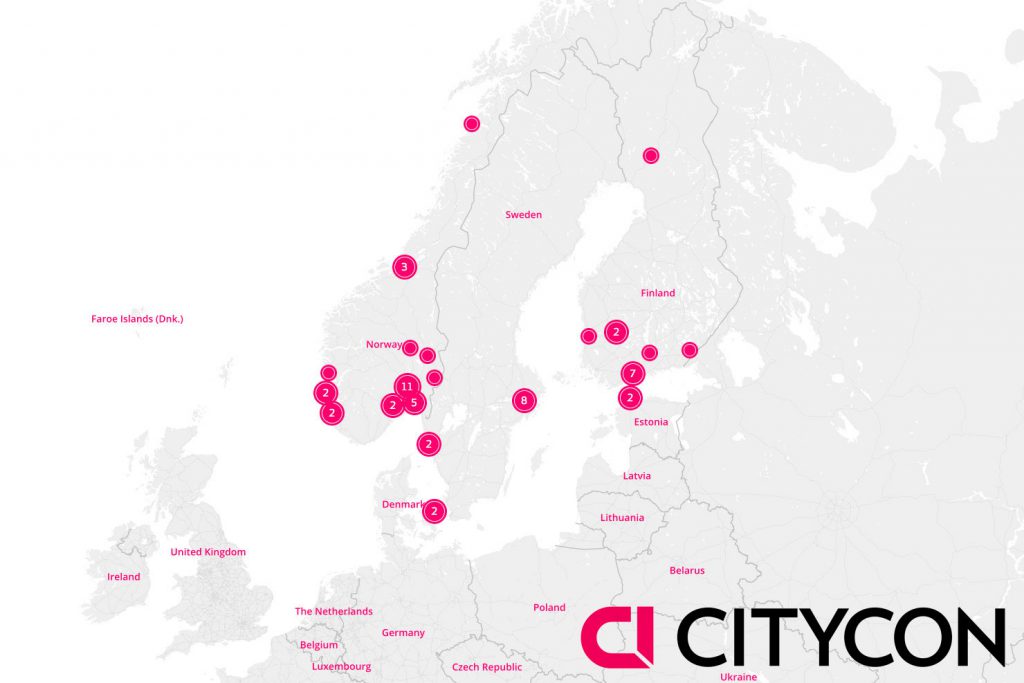 About Visit Intelligence Oy
Visit Intelligence Oy, the developer of Visit® solution, is a global pioneer in Visitor Analytics producing data from over 10 billion visitors annually. The company's mission is to improve its customers' business profitability. Visit® equips the brick-and-mortar-stores with the similar visitor behaviour analytics tools, which until now have been prerogatives of the online retailers. Visit® helps customers to understand their Visitor flows, customer Loyalty and Dwell time, the Capture rates and Demographical data of their retail premises. Visit® can improve the sales per m2 by monitoring visitor engagements, paths and hot zones seamlessly integrated to queuing, staffing and loss prevention systems. Every day 4 new stores / shopping centres start to utilise Visit® Behaviour Analytics.
More information
For more information, contact Visit Intelligence Oy: www.visit.fi
Lauri Ruohonen, CEO
Phone +358 40 536 9379; email: lauri.ruohonen@visit.fi
Artto Ilmanen, Executive Vice President, Sales
Phone +358 40 565 8877; email:  artto.ilmanen@visit.fi
Visit Intelligence Oy
Finnbergsgatan 4, Fi-21600 Pargas, Finland
Business ID 2709783-4
Phone +358 (0)75325 7850
www.visit.fi